During the Military Surface Deployment and Distribution Command's 2011 Training Symposium April 4-6 in Dallas, Texas, Maj. Gen. Kevin Leonard, SDDC commanding general, took the opportunity to personally present a "Patriotic Employer" certificate to an industry partner who many would say went "above and beyond" the call of duty.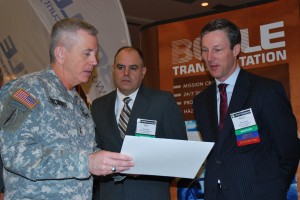 Boyle Transportation, Inc. received the recognition as part of The National Committee for Employer Support of the Guard and Reserve. The company earned the recognition for the support they provided to one of their employees, Lt. Col. Rick Araniz, while he was deployed last year in support of Operation Enduring Freedom. In addition to working at Boyle Transportation, Araniz is a member of Joint Forces Headquarters, Massachusetts Army National Guard.
The National Committee for Employer Support of the Guard and Reserve, or ESGR, is a Department of Defense organization established in 1972 to promote cooperation and understanding between Reserve component personnel and their civilian employers. According to ESGR, the "Patriotic Employer" certificate is presented to employers of Reserve component personnel for "contributing to national security and protecting liberty and freedom by supporting employee participation in America's National Guard and Reserve force."
"My employer was extremely supportive of me and my family during my deployment to Afghanistan," said Araniz. "Boyle Transportation kept in continuous contact with me and sent multiple care packages. They reached out to my family and assisted my wife during a major car repair by bringing her a car to drive while hers was being repaired, and by settling the extensive costs of the repair."
Although sending care packages and assisting the deployed officer's family with car repairs may already seem like a huge gesture, according to Araniz, his employer didn't stop there … not by a long shot.
While Araniz was at the mobilization site in Indiana awaiting his departure to Afghanistan, he received a three-day pass. Araniz said his employer paid for three airline tickets, lodging, rental car and meals so that Araniz' wife and children could visit him prior to his deployment.
But again, his employer's support didn't stop. While Araniz was deployed, Boyle Transportation also significantly raised the employer contribution of tuition assistance for Araniz' daughter.
"My employer went above and beyond in supporting me and my family during this deployment," said Araniz. "It allowed me to focus on my mission in Afghanistan; knowing that everything at home would be taken care of."
Although Araniz said his employer went "above and beyond," Marc D. Boyle, President of Boyle Transportation, said it was the least they could do.
"We're very proud of Rick and his service to the country," explained Boyle. "As an employer, we felt like this was the least we could do to support such an exceptional and long-term employee."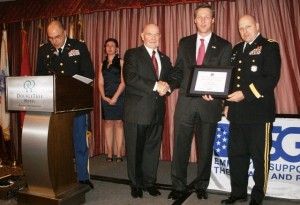 [original content http://www.army.mil/-news/2011/04/21/55312-sddc-commanding-general-recognizes-patriotic-employer/]